View, track, and manage your Campaigns in one convenient location.
The Campaigns Manager brings together all of the important information about your Campaigns. You can view your Microsites as well as change your Campaign settings. To access the Campaigns Manager, log in to your mySD Account and select "Campaigns" from the navigation menu.
As a reminder, a Campaign includes Keywords, Ads, Customized URL, Microsite, and a Local Tracking Number, all designed to work together to generate quality, exclusive Leads for a specific Service Category in a specific Service Area.

Campaign Quick View

In the Campaigns Manager, each Campaign has a Quick View where you can see the most important information and settings for that Campaign including:
Campaign Name and Tracking Phone Number
Campaign Microsite
Cost Per Lead Settings
Lead Delivery Settings
Lead Performance Metrics
Campaign Status
Note: If you log in using a Manager Account, you will see an additional label indicating the associated Company Name of each Campaign.

Filter, Sort, and Search Campaigns
In the Campaigns Manager, you can Filter by Campaign Status (Paused, Enabled, Canceled) and by Service Category. Additionally, you can search Campaigns by keyword to quickly bring up the Campaign or Campaigns you want to view. The sort feature allows you to choose the order in which Campaigns are listed.
By default, you will see all non-Canceled Campaigns across all Service Categories, sorted by the most Leads received in the last 30 days.
Note: If you log in using a Manager Account, you will have an additional option to filter by Client. This is a multi-select tool that will allow you to display all selected Clients at once.
Learn more about Filtering Your Campaigns.

View Campaign Microsite
Each Campaign Quick View displays the name of the Campaign, the Local Tracking Phone Number and a thumbnail image of the associated Campaign Microsite. Under the Campaign Site section in the Quick View, click on "View Site" to open the full Campaign Microsite in a separate tab.
While your Campaign Microsites have been carefully optimized for conversion, there are a few things you can request to modify, such as:
Adding New Testimonials
Providing Photos of Completed Work
Updating Company Awards or General Information
Update Service Offerings
If you would like to make a request to update the copy on your Microsites, simply click the "Request Content Edit" link and our Content Team will respond as soon as possible. Learn more about Requesting a Content Edit.
Adjust Your Cost Per Lead
A Campaign's Cost Per Lead (CPL) determines how much you pay for each Billable Lead generated from that Campaign. You determine the CPL for each Campaign. In general, increasing this amount results in an increase in Lead Volume, while decreasing will reduce the number of Leads you can expect to receive. A recommended range will be displayed next to the Cost Per Lead field for each Service Category.
To adjust your Cost Per Lead, simply click the Edit button next to the Cost Per Lead text in any Campaign Quick View or use the Bulk Edit feature to apply to multiple Campaigns at once.
Update Lead Delivery Settings
Lead Delivery settings determine which phone number(s) and email(s) receive Leads generated by a Campaign. To get started, simply click the "Edit" link in any Campaign Quick View to change the settings for an individual Campaign, or select multiple Campaigns you would like to modify and click the "Bulk Edit" link to apply to many Campaigns at once.
Learn more about Lead Delivery Settings.
Adjust Campaign Status
The Campaign Status indicates whether or not a given Campaign is currently advertised and receiving Leads. The Campaign Status can either be Enabled, Paused, or Canceled. To make changes to the status of a single Campaign, click the "Update Status" button in the Campaign's Quick View. You can also apply a status change to many Campaigns at once by using the Bulk Edit feature.
Note: Frequently updating your Campaign Status can have an adverse effect on the performance of your Campaigns. Learn How to Pause or Enable a Campaign.
Use the Bulk Edit Feature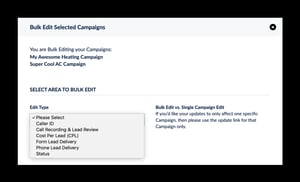 Many of the above Campaign settings can be modified on multiple Campaigns at once, saving you time when you need to make a change. Examples of items available for Bulk Edit:
Caller ID Preference
Call Recording Preference
Lead Delivery Settings
Campaign Status
Cost Per Lead (only available across a single industry)
To use the Bulk Edit tool, check the boxes to the right of the Campaign Quick View of each Campaign you wish to modify, then click the "Bulk Edit Selected Campaigns" link from the top of the page.
Learn more about the Bulk Edit feature.