Adjust Campaign Settings for multiple Campaigns at once with Bulk Edit.
By popular demand, our all-new Campaigns Manager features a Bulk Edit feature that allows you to adjust Campaign Settings for multiple Campaigns at once. To use Bulk Edit, select the Campaigns you wish to modify and click the "Bulk Edit Selected Campaigns" link near the top of the page. Then choose the Campaign Setting you would like to Bulk Edit.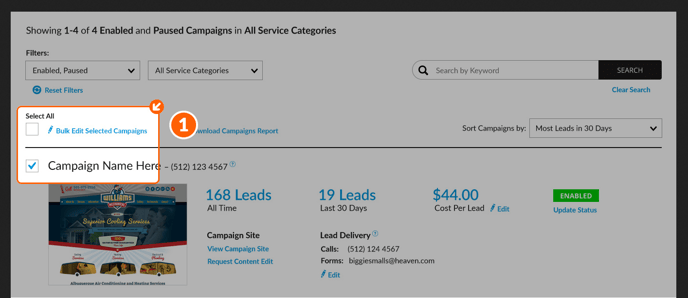 While not all settings can be modified in bulk, you can adjust or update the following Campaign Settings with Bulk Edit:
Call Recording Preference
Cost Per Lead (within a single Service Category only)
Lead Delivery Email(s)
Lead Delivery Phone Number(s)
SMS Lead Notification Settings
Campaign Status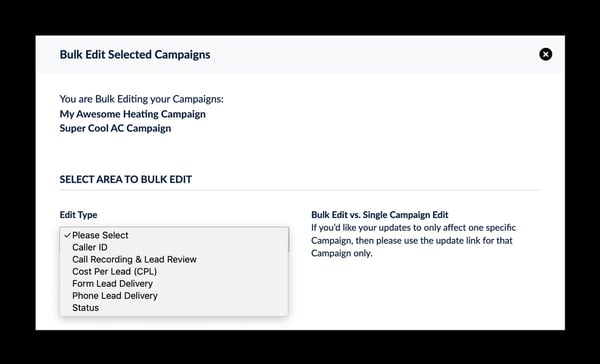 Bulk Edit Caller ID Preference
You can apply the Caller ID Preference to multiple Campaigns with Bulk Edit. We offer two Caller ID options when you receive an incoming Phone Lead:
Show the Caller ID of the Phone Lead.
The information provided to the telephone company will be displayed. Keep in mind, this is controlled by the customer and the telephone provider, not Service Direct.
Show the Campaign's Local Tracking Phone Number (recommended).
This option displays the Service Direct tracking number instead of the customer's caller ID information. We recommend selecting this option and saving your tracking numbers under a contact named "Service Direct Leads" in your phone. This way, you will always know this is a Lead trying to get in touch to encourage you to answer the call. You can learn more about adding a contact on iPhone or Android.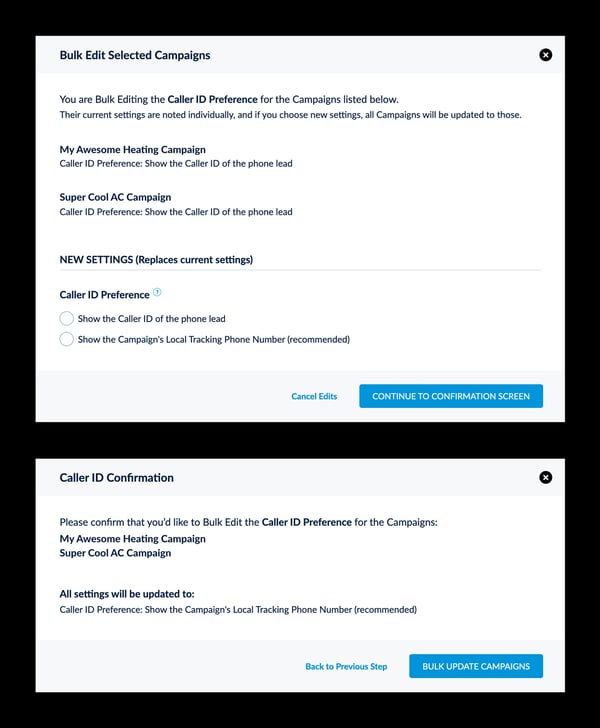 Bulk Edit Call Recording Preference
Included with your mySD Account is unlimited Call Recording. We will record every incoming Phone Lead so you can easily playback previous calls.
Note: While Call Recording is completely optional, you must have Call Recording enabled in order to be eligible for Lead Review.
Bulk Edit Cost Per Lead
A Campaign's Cost Per Lead (CPL) determines how much you pay for each Billable Lead generated from that Campaign. You determine the CPL for each Campaign. In general, increasing this amount results in an increase in Lead Volume, while decreasing will reduce the number of Leads you can expect to receive. A recommended range will be displayed next to the Cost Per Lead field for each Service Category.
Note: Because CPL differs by Service Category, this option is only available when selecting multiple Campaigns of the same Service Category.


Bulk Edit Lead Delivery Settings
For each Campaign, there are two Lead Delivery Settings: one for Phone Leads and the other for Form Leads. With Bulk Edit, you can adjust the emails and phone numbers that receive Leads. Some important things to note about Bulk Editing your Lead Delivery Settings:
Bulk Edits for both phone numbers and emails replace the current settings. Make sure to add the current phone number and/or email address if you would like to keep your existing setting and add additional ones.
Keep in mind for Phone Leads with multiple forwarding phone numbers, all phones will ring at once and the first phone to take action (including sending to voicemail) will "receive" the Lead.
You may also adjust your SMS Notifications here. These settings also replace the current settings, so take care to confirm all phone numbers are present before confirming.
Form Lead and Phone Lead Delivery settings must be adjusted individually, so if you wish to modify both, you will need to perform two Bulk Edits.
Bulk Edit Campaign Status
If you would like to Pause or Enable multiple Campaigns at once, you can use the Bulk Edit feature to update Campaign Status. Select specific Campaigns or Select All Campaigns, click "Bulk Edit Selected Campaigns" and choose "Status" from the drop-down menu.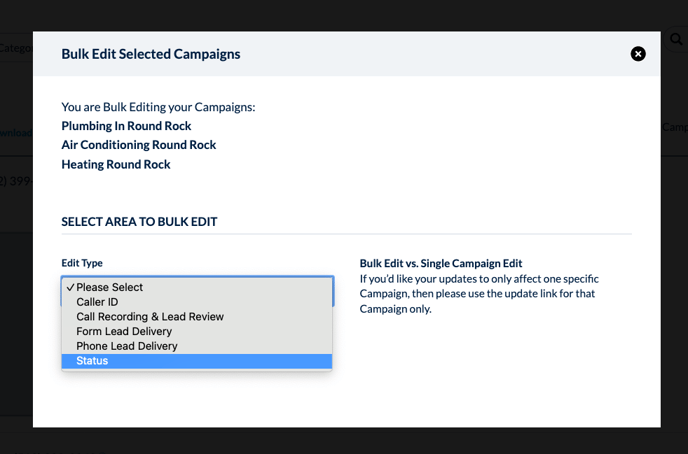 You will see a summary that displays the current status of the selected campaign(s) followed by options to update status. You can perform the following Update Status operations:
Enable Campaigns Now
Enable Campaigns on a future date
Pause Campaigns Now
Pause Campaigns on a future date
If you are Pausing your Campaigns, you will then be prompted to enter a reason for the pause and given an option to set a date to Enable your campaigns again.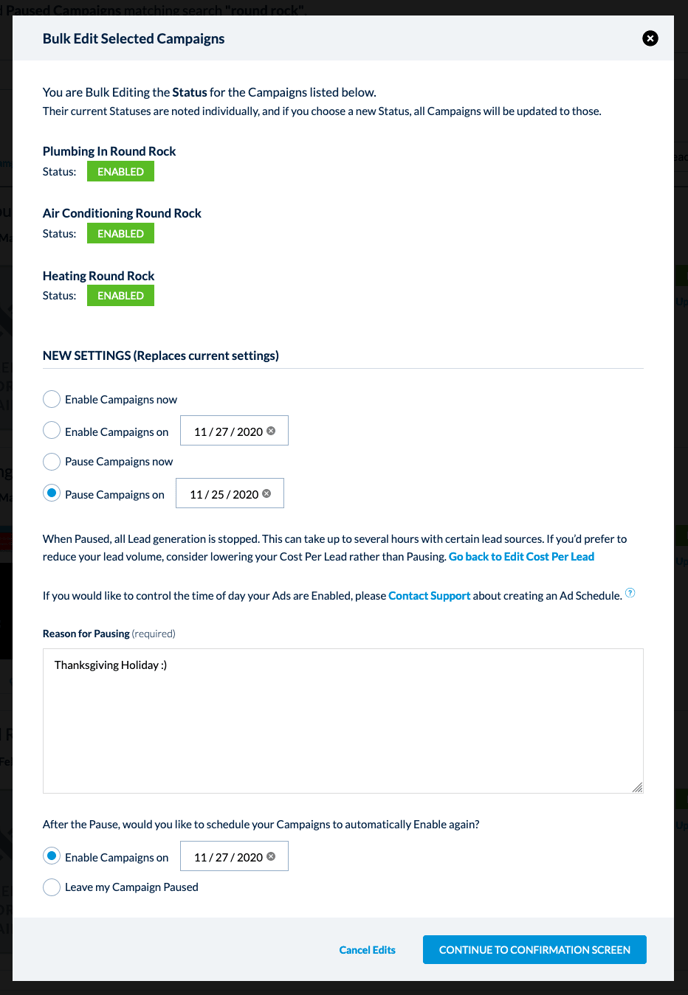 Warning: Frequently Pausing your Campaigns will have a negative impact on performance.
Learn more about pausing individual Campaigns in How to Pause or Enable a Campaign.