See customer information, listen to Phone Call Lead recordings, and view Form Leads messages in the Lead Manager.
The top section of the Lead Manager provides an overview of your Lead Performance Metrics, followed by the main Lead Manager Table.
At the top of the Lead Table you'll see a sentence describing which Leads you're currently viewing, which corresponds to the currently applied Search and Filters.
Below this sentence there is a link to View Performance Metrics for these Leads as well as an Export to CSV link that allows you to download a file for external spreadsheet or CRM use.
You can easily change which Leads you see by Filtering and Searching your Leads. You can click a Quick Filter link, the Search button, or the Filter button to find exactly what you're looking for.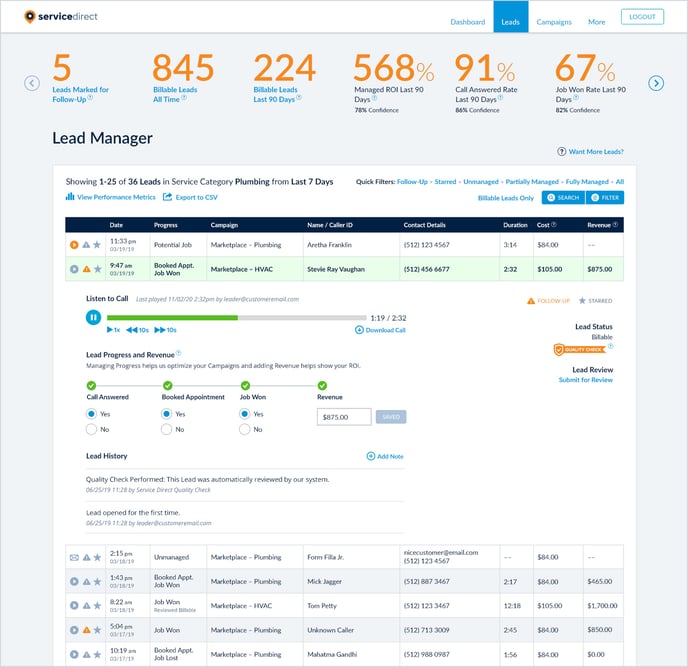 Understanding Columns in the Lead Manager Table

Lead Type, Follow-Up, Starred Icons Column: This column displays icons indicating if the Lead was a Phone Call or Form Lead, whether the Lead was marked Follow-Up, or whether the lead was Starred.

Phone Call Lead: A Phone Call Lead is from a potential customer who has called via a Service Direct Campaign. In the Expanded Lead view you can play the entire recorded phone call (when Call Recording is enabled. See Lead Delivery Settings).
Form Lead: A Form Lead is from a potential customer who has completed a web form submission. Note: The quicker you get back to these Leads, the higher the likelihood it will result in a Booked Appointment.
Lead Marked for Follow-Up: Toggle off and on whether a Lead is marked for Follow-Up (which helps them stand out and enables Filtering)
Lead Marked as Starred: Toggle off and on whether a Lead is marked as Starred (which helps them stand out and enables Filtering)
Date Column: The timestamp of when the Lead was generated.
Progress Column: This identifies a Lead's Progress and Billable statuses. This column will be more accurate if your Leads are regularly managed. If the Lead Progress is not Managed then the Progress status displays "Unmanaged." See Managing Your Leads.
Campaign Column: This column displays the name of the Campaign associated with each given Lead.
Name / Caller ID Column: This displays the name of the contact as it appears on Caller ID (Phone Call Lead) or as provided by the contact (Form Lead). Please note, the Caller ID on Phone Call Leads is controlled by the telecom companies, not by Service Direct.
Contact Details Column: For Phone Call Leads, the phone number that made the call to your Service Direct Campaign. For Form Leads, the email and/or phone number supplied by the customer when filling out the web form.
Duration Column: Applies to Phone Call Leads only. Displays the time length of the phone call.
Cost Column: Displays the Cost Per Lead associated with the Campaign. This is the amount you pay Service Direct for each Billable Lead.
Revenue Column: This column displays any revenue that you have entered into mySD for any won Jobs.
Manage your Leads in the Expanded Lead Detail View
Click on any Lead Row to expand it and reveal detailed Lead information and available actions, such as:
Listening to the Call Recording for Phone Call Leads
Reading the Form Message for Form Leads
Managing Lead Progress and Revenue to track ROI
Viewing Lead History notes
Marking Leads as Follow-Up or Starred
Viewing the Lead's Billable Status
Submitting a Lead for Review or viewing the Lead's Lead Review Status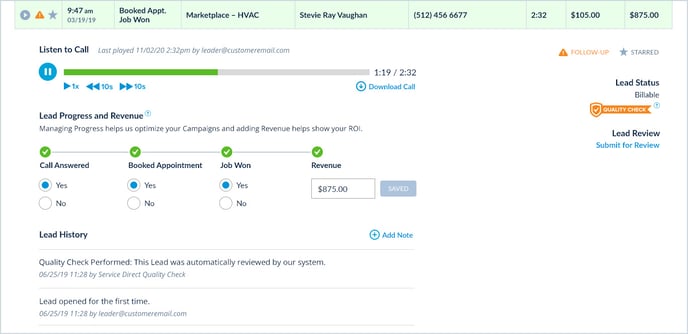 Submitting a Lead for Review
We do our best to ensure your Campaigns receive only Billable Leads, but as we connect you directly with customers in real time, occasionally you might receive a Non-Billable Lead. You only pay for Leads from New Potential Customers who are seeking a service that aligns with your Service Category, so if you receive a Non-Billable Lead you may Submit it for Review by our Team.
Phone Call Leads received less than 7 days ago are eligible for Review (if you have enabled Call Recording so we can verify the caller's intent).
If you believe a Lead should be Non-Billable, you may begin the Lead Review process by clicking "Submit for Review" in the Expanded Lead view.

In the popup form, please choose a reason you believe the Lead should not be Billed and leave a detailed explanation to help our review process. Usually the caller's intent is clear, but, if needed, we may follow up with additional questions via email.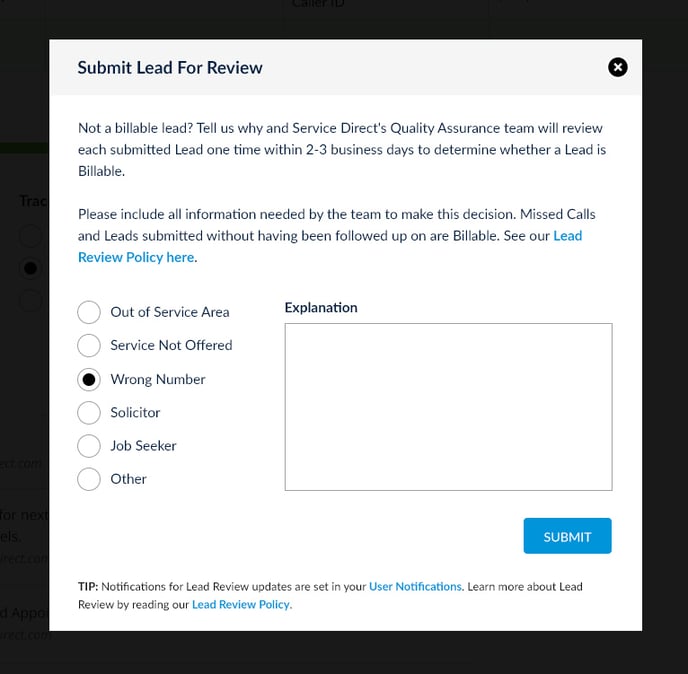 Note: If you have Paused your Campaign and then you receive a Lead, we automatically mark it as Non-Billable and you will not be charged.
Call Insights Service
Our Call Insights Service is designed to help you increase the profitability of your Campaigns while also saving you valuable time and money.

When you add our Call Insights Service our Team will proactively Review all your Leads to ensure you only pay for Leads from New Potential Customers, while also capturing critical data points about each Lead to help you understand key Performance Metrics, which help you make smarter business decisions.