Use the Campaigns Manager to specify your Lead Settings, including Lead Notifications, Caller ID, and Call Recording settings.
Your mySD Campaigns Manager provides you the flexibility to control your Lead Delivery and Lead Notification Settings for individual Campaigns, or in bulk for changes across for multiple Campaigns.
Set Your Lead Delivery for Your Campaigns
You control where and how you receive Phone Call Leads and web Form Leads generated by Service Direct. Our platform forwards each incoming Phone Call and Form submission directly to the phone number(s) or email address(es) of your choice.
We recommend sending Leads to multiple company team members or to a shared inbox so that you can follow up with Potential Customers quickly.
In the Campaigns Manager, you can change both the Lead Delivery email(s) and phone number(s) on a per Campaign basis, or you can use the Bulk Edit feature to apply this change to multiple Campaigns.
You can reach the Campaigns Manager in mySD by clicking "Campaigns" in the top navigation menu.
Adjust Lead Delivery and Lead Notifications for a Single Campaign
To edit Lead Delivery on a per Campaign basis, locate the Campaign you wish to change in the Campaigns Manager and click the Edit button under "Lead Delivery." A pop-up will appear which allows you to change the forwarding phone number, email address, Displayed Caller ID preferences, and more.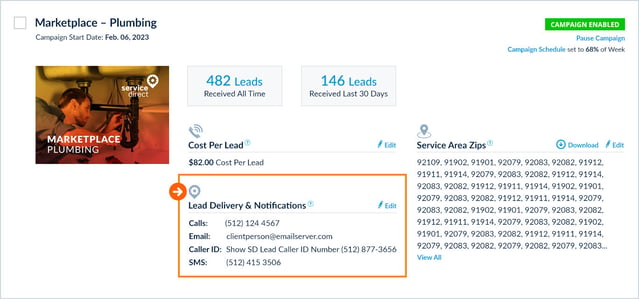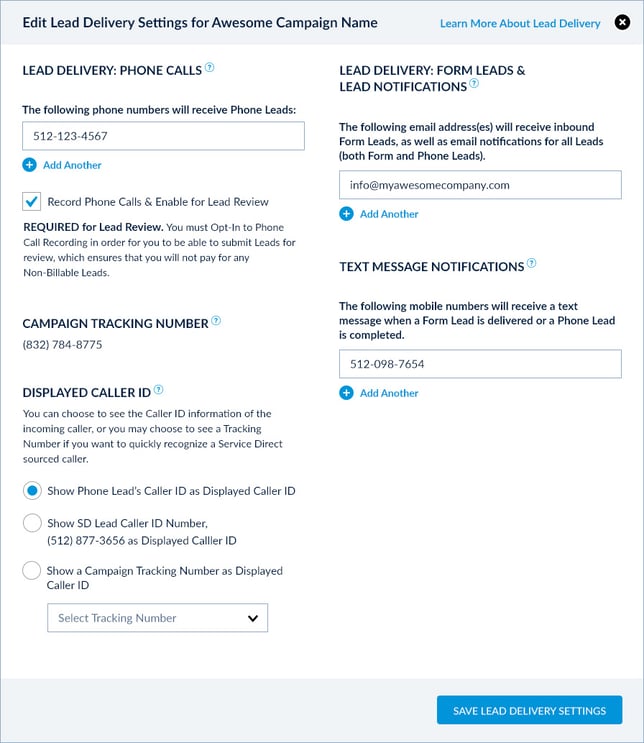 Lead Delivery: Phone Calls
This is the Phone Number(s) where your Phone Call Leads ring through to. You may set more than one so you are sure to receive the incoming call. If you add multiple forwarding phone numbers, all phones will ring simultaneously and whichever phone takes action first receives the Lead. This does include declining the call or going to voicemail when a phone is turned off.
Record Phone Calls Checkbox
Call Recording allows you to listen to a previous Lead conversation to replay important information like the Customer's name and contact information, or even provide valuable coaching to your team who answers the phone. If you would like to have your calls recorded, simply check the box to opt-in.
You must opt-in to Phone Call Recording to enable us to do Lead Review and determine Billable and Non-Billable Leads.
Campaign Tracking Number
This is the Local Tracking Number we assigned to your individual Campaigns.
Tracking Numbers are not editable, however you can choose to use any of your Tracking Numbers as Displayed Caller ID (see below).
Displayed Caller ID
Caller ID is flexible, based on your needs. You can choose to see the default Caller ID information of the incoming caller, or you may choose to see the SD Lead Caller ID Number if you want to quickly recognize a Service Direct sourced caller.
Option 1: Show the Phone Lead's Caller ID as the Displayed Caller ID


The information provided by the caller to the telephone company will be displayed on your incoming Leads. Keep in mind, this is controlled by the caller and the telephone provider, not Service Direct.

Option 2: Show the SD Lead Caller ID Number (512) 877-3656 as Displayed Caller ID


Selecting this option means all incoming SD Leads will show the same Displayed Caller ID Number when you or your team is answering the phone. This allows you to immediately identify the incoming call is from Service Direct.
Lead Delivery: Form Leads & Lead Notifications
This is the Email Address(es) where your Form Leads are delivered and also where we send you Notifications when you receive Phone Call Leads.
SMS Text Message Notifications
This is the mobile Phone Number where SMS Text Message Notifications are sent when we deliver your Campaign a Phone or Form Lead.
Adjust Lead Delivery & Lead Notifications for Multiple Campaigns Using Bulk Edit
If your need to update your Lead Delivery across multiple Campaigns, check the checkbox to the left of the Campaign Name of each Campaign that requires updating. If you'd like to apply the changes to all Campaigns, check the "Select All" checkbox at the top left of your Campaign rows to select all your Campaigns with one click.
Then click the "Bulk Edit Selected Campaigns" link, which will open a popup with options to select from various Bulk Campaign Edit types.
Learn More about applying Bulk Edits to your Campaigns
Spam and Robocalls
We hate spammers just as much as you do! These are always Non-Billable Leads, but we understand Spam calls, Robocalls, and Caller ID Spoofing are a nuisance and waste your time. First of all, we want to assure you those calls are not from Service Direct, and we are always working to help reduce (and hopefully eliminate) spam calls.