Learn more about Marketplace Leads & Campaigns.
Service Direct Marketplace is a source of high-quality, high-converting Leads for your business. Marketplace leads come from dozens of vetted websites and other Publishing Partners. As consumers search for your services across these sources, we connect them with your business in real-time.
Signing Up for Service Direct Marketplace
Currently, Marketplace Campaigns are available and for Service Categories that have been tested and proven to work. As a member of the Service Direct Select program, you will automatically receive Marketplace Leads if you provide service in any of these qualifying categories. If you do not see your Service Category listed here, rest assured we are continually seeking new opportunities to drive quality Leads in other verticals. Currently Marketplace is only available to our clients in the United States.
Adjusting Marketplace Campaign Settings
We've made it simple to view and adjust your Marketplace Campaign settings in mySD Campaigns Manager. In both the Lead Manager and Campaigns Manager, Marketplace Campaign names begin with "Marketplace" so you can easily differentiate between these and your Select Campaigns.
You can adjust many of the same settings with Marketplace Campaigns as with your Select Campaigns, including:

About Your Service Area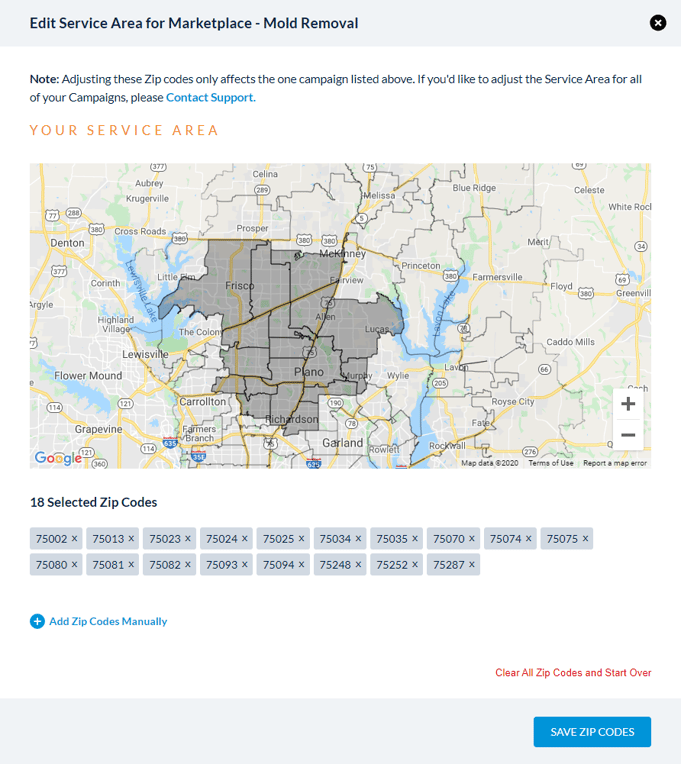 Setting and adjusting the Service Area for your Marketplace Campaigns is easy! From the Campaigns Manager, locate the Marketplace Campaign you wish to modify and click the "Edit" link under the "Service Area Zips" heading. Use the map of clickable Zip Codes to adjust your Service Area.
You can also remove Zip Codes from your Service Area by clicking the "X" on the Zip Code tag found below the map.
Additionally, you can manually add one or more Zip Codes in bulk by using the Add Zip Codes Manually option. If you have multiple Zip Codes you want to add through this option, separate them by spaces, commas, or new lines. Make sure to Press Add Target Zip Codes button to save them.
And lastly, be sure to click Save Zip Codes at the bottom right of the pop up to save any edits you have made.
If you want to start completely over, there is an option to Clear All Zip Codes and Start Over. This will reset the map removing all Selected Zip Codes and ask you for a Starting Zip Code and Radius. If you accidently clicked this, be sure NOT to Save and instead cancel out of the pop up via the top-right "X" button.
Note: Adjusting your Marketplace Service Area only applies to the selected Campaign. To adjust the Service Area map on other Marketplace Campaigns be sure to update them as well. If you are looking to make adjust the Service Area of a Select Custom Search Campaign, please contact our Support Team.

Managing Marketplace Leads
Marketplace Leads can be managed in the mySD Lead Manager just like Leads from your Select Campaigns. Set the Lead's progress, track your ROI, submit a Lead for review, and record important notes to help understand Lead performance.
Learn more about Managing Your Leads.