Learn how to add or remove credit cards and set your primary payment method.
If you add multiple credit cards to your mySD Account, you must designate one of them as your primary payment method. Charges for all Service Direct Campaigns and Leads on your Account will be made to your primary payment method, which you can adjust at any time. At this time, we are unable to split payments across multiple cards under a single Account.
Accepted Payment Methods
Visa
MasterCard
Discover
AMEX
At this time, we are unable to accept the following payment methods:
Checks
Prepaid Cards
Cash
Direct Deposit
PayPal (or any other digital payment service)
Add or Remove Credit Cards

The Billing Center makes adding and removing credit cards simple. The Credit Cards section appears first, giving you easy access to make adjustments. To remove a credit card, simply click "Delete" from the list of cards.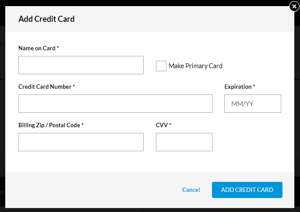 To add a credit card, click "Add Another Card" and enter the information in the popup. You may also select to make this new card your primary card or not.
Note: You may not delete your primary payment method until you have added another credit card. If the card you are trying to remove is currently set to your primary method, this option will be greyed out. To delete the card, simply click "Set as Primary Payment Method" next to another card and try again.